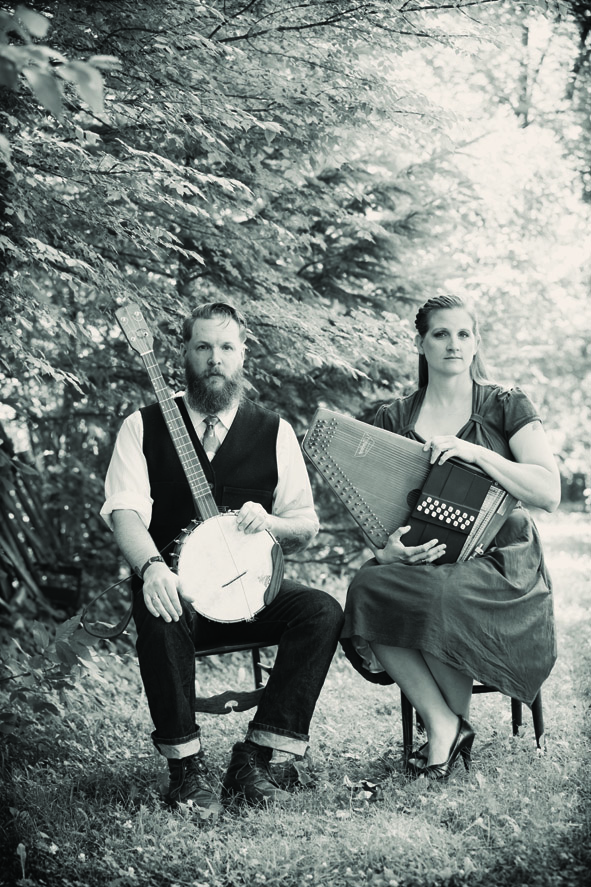 "Husbands and wives shouldn't be in bands together. It's a terrible idea!"
For 15 years Kim & Quillan Roe have made music together, starting at a tribute to the then-recently-deceased Johnny & June Carter Cash. —-
Kim Roe grew up with music all around her. Her dad would play his guitar and she would sit at his feet singing along. As she grew, so did her love for music: first as a girl singing along with the radio into a hairbrush in front of her bedroom mirror, then as a teenager in choir, then as a young woman singing karaoke.
Quillan Roe is the descendant of Kentucky horse-thieves and a long line of Appalachian and Ozark fiddlers on his mother's side; and an equally long line of evangelists, poets, and writers on his father's side. He's been playing in bands for nearly three decades, with his first professional band, Accident Clearinghouse, launching in 1992.
Kim and Quillan were married in the spring of 2003, and soon Kim was asking Quillan if they could start a band together; Quillan said, "No. Husbands and wives shouldn't be in bands together. It's a terrible idea!" But Kim persisted and kept asking to start a band together, and Quillan kept saying, "No." That same year, however, both June Carter and Johnny Cash died, and a local bar, Lee's Liquor Lounge, organized a tribute to them and their music. Quillan wanted to perform at the tribute but his band at the time, Accident Clearinghouse, was on hiatus. So with the tribute's promoter on the phone, Quillan asked Kim if she still wanted to start a band together. Not knowing that Quillan meant right then, she answered enthusiastically, "Yes!"
"Put us down as the… uh…" Quillan hadn't thought it through that far. "Put us down as the… Roe Family Singers," he finally blurted. Their first show was booked and Kim didn't even know it!
Though they both had full-time jobs, the Roes threw themselves into making music as often as they could. They started a weekly residency at the 331 Club which they maintain to this day, and by 2010 they were maintaining a full-time band's workload, while still working full-time day jobs, and raising one baby daughter with a second on the way.
In 2011, they won the prestigious McKnight Fellowship for Performing Musicians, which comes with a substantial monetary award. The Roes talked it over and decided that they would try life as full-time musicians—using the McKnight Fellowship to help fund their first year—and have been making music their full-time work ever since.
Like any recording artist, Quillan has wanted a recording contract since the beginning, so the opportunity to partner first with bluegrass powerhouse Pinecastle Records, and then their new subsidiary, Bonfire Music Group, is very exciting. "Back when I first started I thought a record contract meant all the crazy stories you hear when you're a huge music fan growing up: the million-dollar advance, the fame, the fortune, the mansions, the cars… I thought it was the ticket to being the next Elvis Presley or Hank Williams," Quillan said. "But these days, with peer-to-peer sharing, streaming internet music services, and the fact that any lap-top computer can be a recording studio and distribution hub, all that's changed.
"Partnering with Bonfire means, most importantly, someone to share both the workload and expenses of promotion and distribution. Running a band is hard, never-ending, expensive work, and we're also spouses and parents. Having someone to help us with the workload is great, and frees up more time for family."
Kim picks up the thought: "It also means new opportunities to play for audiences that we otherwise might not be able to access; it means the respect that comes from 'being on a label;' it means that someone professional, someone in the business, someone with a long history of putting out music like ours, believes in us and what we do; and it helps us to further our career, to take it up to the next level, to sustain it longer than we might be able to do on our own. We are so very thankful to be working with Bonfire Music Group to make this happen."