We're super excited t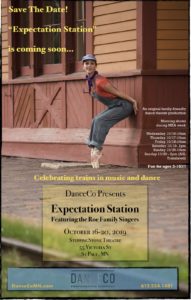 o once again be collaborating with DanceCo on "Expectation Station!" This show is an absolutely awesome family-friendly dance performance all about trains. We'll be there providing live music for some truly amazing dancers. We first did this show back in 2017. It got great reviews and we had a ton of fun!
We'll be at SteppingStone Theatre in St. Paul on Oct. 16-20.
Showtimes:
10 a.m. Wednesday, Oct. 16 – Friday, Oct. 18
2 p.m. Saturday, Oct. 19
10 a.m. and 2 p.m. Sunday Oct. 20 (ASL interpreted)
You can get tickets here.